About Us and You
Brian Lucas is the owner of Off the Chain bike shop in Hollister, CA. He has been in the bicycle industry and an avid cyclist for 30 years. His knowledge in bicycles & components could be very beneficial to you in finding the right bicycle or locating a particular problem that your bike might have.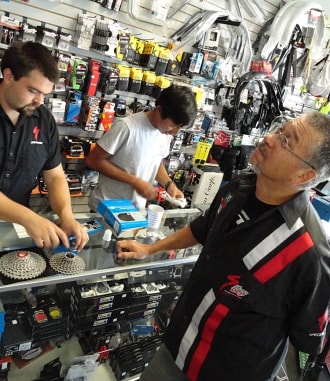 Specialized Bicycle Components has trained Brian as a Certified Body Geometry Fit Technician. He knows exactly the proper fit for you and your bike.
Brian and Chris have been trained also as Spin Instructors. Indoor spin classes are held in the store during Fall & Winter months on Tuesday & Thursdays evenings. Spring & Summer months road rides also Tuesday & Thursdays evenings.
Chris, Cliff and his son Myles are also avid cyclists & enjoy the sport. Anyone of them could be found at the shop to help you find the right bike or part. They are all very well trained by Brian in bicycle tune-ups and the assembly of a bike. Visit The Shop page to see more about services we offer.
All bicycles purchased from Off the Chain Bikes have a 30 day free inspection to make sure that everything is still running smoothly.
Annually they all attend the Inter bike convention to see all the newest of bicycle lines and components. They attend seminars and workshops and always enjoy the demo days, testing riding next years new line of bikes. Their goal is to always provide helpful & professional customer service.
Brian has provided classes in bicycle maintenance & how to change a tire to Cub Scout and Boy Scout troops, local schools & anyone desiring to learn these skills.
If you have a group of kids that would like to attend one of these classes, give Brian a call to set that up for your group. He would enjoy assisting you in that way. If your Boy Scout is working on his cycling merit badge have him join Brian on their Saturday morning bike rides that leave the shop every week at 8am.
Check out our events and programs calendar.
We strive to fulfill your every cycling need.